Every now and again, someone asks about the origin of Sheets Pet Clinic's logo. Here's the story: When Dr. Sheets opened her own veterinary hospital/low-cost spay/neuter clinic years ago, she based her logo on the well-known starfish story.

A man discourages a boy when he throws a beached starfish into the ocean because there are hundreds more ahead. "You can't make a difference," the man said. The boy bent down, picked up another starfish, and threw it into the ocean. He said, "I made a difference for that one."

The little girl in the logo is Dr. Sheets. Her childhood dream was to spay/neuter homeless cats and kittens, placing the ones she could in good homes. The multitude of stars in the sky are the many homeless animals worth reaching for. Dr. Sheets believes that if she reaches just one "star," she has made a difference.

Our fundamental message at Sheets Pet Clinic is spay/neuter so one day there will be no homeless cats or dogs on the streets.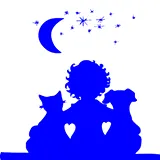 [Logo design: Cheri Freeman]